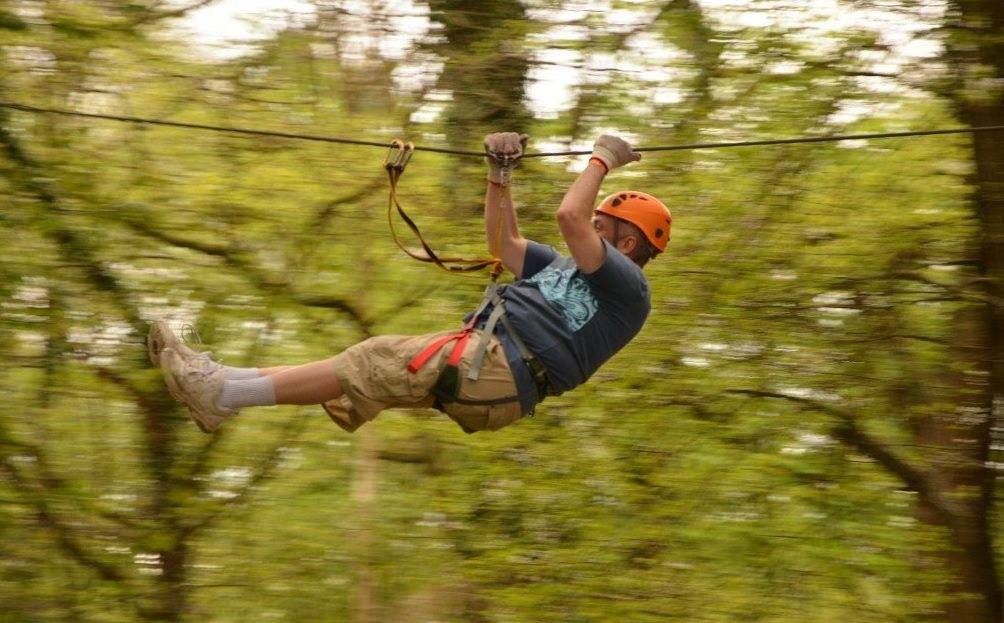 Sport is everywhere in Lorient, Southern Brittany! Between Land and Sea, you will be spoilt for choice… just around the corner from the VICTOR HUGO hotel!
Parcabout,Groix island. For a day trip, set off from Lorient quay, a stone's throw from the VICTOR HUGO hotel, and take a 45 minute crossing to Groix island, off the coast of Lorient.
You can hire bikes at the port or walk to the Parcabout.
The Parcabout offers a one-of-a-kind opportunity, created on Groix island, to move through the trees, several metres high, on nets just like those you'd find on a boat. It's completely safe and perfect for children.
The flying fish, Ploemeur. An adventure park with a treetop trail, known locally as the accrobranche!
A fantastic activity with friends and family, in magnificent surroundings.
The park is open from February to October and offers different levels of difficulty so both young and old can enjoy the experience. A short trip from the VICTOR HUGO hote, 15 minutes by car or accessible by bike along the greenway,enjoy a thrilling morning or afternoon out!
Kerguelen Water Sports Centre, Larmor-Plage. Established many years ago, this water sports centre's reputation is second to none. The centre offers a wide range of activities, with one-day or week-long workshops for beginners and more experienced participants. You will be spoilt for choice: paddle board, sea kayak, sailing, windsurfing, diving and many other water sports. The VICTOR HUGO hotel, on the road to LARMOR PLAGE, is only 10 minutes from the centre so you can make the most of this fantastic location!
Golf Bluegreen Ploemeur Océan, is just 18 minutes from the VICTOR HUGO hotel along the coastal road, a pleasant drive to this special course. Enjoy incredible panoramic views in splendid surroundings as you indulge in your passion!
Speed Air Parachutisme, Lorient and its surroundings from the sky, more than 3000 m up! It's a unique way to explore the city, coast and countryside. An unmissable experience for thrill seekers and accessible to all (except on medical grounds.
Sensation Océan, in Lorient. The city has always been open to the sea and alive with the rhythm of the waves. For many years, Lorient has had a growing and dynamic sailing sector and is now an offshore racing hub, home to some of the fastest boats in the world.
Lann Er Roch Esquestrian Centre, Ploemeur. Primarily during the school holidays, this equestrian centre offers hacks and beginners' horse riding sessions. The centre has a range of large and small ponies and horses, suitable for all levels and ages. Ideally situated near the coast, the hacks will lead you through the countryside towards the beach. Unforgettable moments!